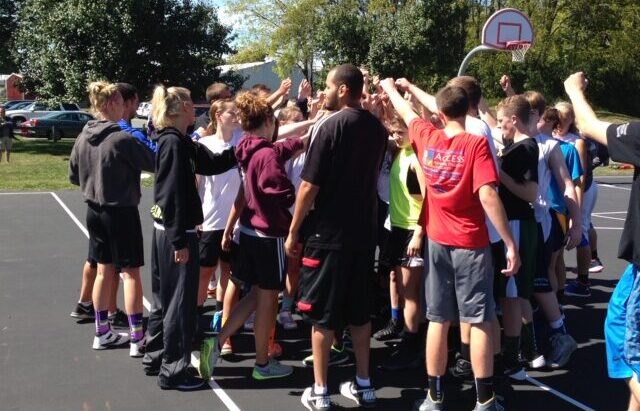 One of our biggest rewards as coaches is getting a chance to see our players grow. They start with us as a blank canvas. Over time we get to see this canvas blossom into a beautiful painting through hard work and dedication.
No matter what level of college they play on as soon as the letter of intent is signed they become part of the 3%. Roughly 3% of all high school seniors end up playing college basketball of any kind. That's about 1 in every 35 kids that move on. To see our players get the honor to join this elite group is one of the reasons we coach the game.
This summer history was made twice for our Crossroads Basketball AAU program. For the first time in our 10 year history we had not one but two players sign contracts to play professional basketball overseas. Less than 1% of the basketball population will ever get to say they play professional basketball. The fact that two players from not only the same AAU program, but from the same county accomplished this feat is amazing.
Sam Baranowski and Chelsea Snyder showed up to our AAU tryouts basically unannounced seven years ago. Both were very "raw" basketball players that didn't impress the coaching staff during the two day workouts. Over the next two years we watched them go from "raw" basketball players to Division 1 athletes. Sam played at the University of Maine and Chelsea at Virginia Commonwealth University.
After college Sam was first to receive a contract to play professionally in Germany, about two weeks later Chelsea received a contract to play professionally in Switzerland. Both Sam and Chelsea are the perfect examples of what hard work, dedication, and the right attitude can do for a player. We are very proud of them and know they will both have bright futures in the years to come.
"How you respond to the challenge in the second half will determine what you become after the game, whether you are a winner or a loser."
Past AAU Players
| | | |
| --- | --- | --- |
| Name | High School | College |
| Melissa Abrahamsen | Morris Knolls | Cabrini College |
| Sam Baranowski** | Lenape Valley | University of Maine |
| Jake Boylan | Sussex Tech | Pennsylvania College |
| Meagan Braunagel | Delaware Valley | East Stroudsberg University |
| Lexi Breheny | Pope John | St.Thomas Aquinas |
| Imani Brown | Jefferson High School | East Stroudsberg University |
| Hannah Buckley | Newton High School | Manhattanville |
| Nicole Callela | Kittatiny | Lycoming College |
| Kenny Davis | Sussex Tech | Sussex County Community College (SCCC) |
| Sarah Finnerty | Jefferson | Stevens |
| Cassie Fhlarety | Jefferson | Kings |
| Sarah Gage | Roxbury | University of Scranton |
| Alisa Greco | West Morris Central | Alvernia |
| Taylor Greene | North Warren | Desales University |
| Javier Gonzalez | Sussex Tech | County College of Morris (CCM) |
| Kelsey Koch | Kittatiny | Arcadia |
| Katie Hartigan | Walkill Valley | Sussex County Community College (SCCC) |
| Sam Lapszynski** | Jefferson | Niagara University |
| Phelan Livingston | Kittatiny | Adelphi University |
| Carly Mangine | Walkill Valley | East Stroudsberg University |
| Jenna Rae Mazzola | Morris Knolls | County College of Morris (CCM) |
| Jack Mc Kenna | Lenape Valley | University of Scranton |
| Jamie Melville | Sparta | Fairfield University |
| Kelsey Murray | Walkill Valley | East Stroudsberg University |
| Brian Murphy | Sussex Tech | NYU Poly |
| April Peterson | High Point | Stockton University |
| Meagan Pittius | Sparta | Lycoming College |
| Jess Poole | West Morris Central | Alvernia |
| Meagan Price | Lenape Valley | Salsibury |
| Amber Reiley | Highpoint | University of Sciences Philadelphia |
| Julia Scanlon | West Morris Central | Brandeis |
| Sasha Scott | Highpoint | Texas A and M International |
| Taylor Smith | Highpoint | Amherst College |
| Chelsea Snyder** | Newton | Virginia Commonwealth University |
| Ryan Tablado | Lenape Valley | Sussex County Community College (SCCC) |
| Leanna Tallamay | Highpoint | Muhlenberg |
| Stephanie Walsh | Pope John | Rochester |
| Erin Woop | Highpoint | Ithaca |